What is Sustainable & Ethical Jewelry?
This video shows my process in how the jewelry is made. We take particular precautions to ensure that both people working on your jewelry as well as the environment are respected.
Reduce, Reuse, Recycle
- We use 100% recycled brass and sterling silver in creating Laura Elizabeth jewelry.
- Laura Elizabeth is made in a way that traps toxics that can leak into the air and hurt people making the jewelry.
- Laura Elizabeth casts her cuffs, rings, pendants, and earrings in a building that disposes of the waste sustainably, leaving less of a carbon footprint. Laura Elizabeth uses a woman-owned business called Kegulian. Laura is happy to share her contacts should want to create sustainable jewelry. Please use our contact page. It is always our intention to respond within 24 hours.
- All chains, clasps, wire, etc are sourced from manufacturers in the US (with the exception of the lobster clasp from Italy). We do not support the use of sweatshops.
- Please see each product page to find out where each piece of material is from and made.
- Our product is vegan.
- The studio Laura Elizabeth uses to cast all our jewelry is in downtown Los Angeles. We can ensure that the workers in the studio are paid above minimum wage.
- Workers in the studio that produce Laura Elizabeth jewelry work 8 hours or less a day and get time off to spend with their families.
- Laura Elizabeth produces "small batch" - this prevents extra waste.
- All paper products are printed locally at 6th Street Printing and in-house on recycled paper. This includes our shipping labels, notes/inserts, wholesale display cards. They are printed on uncoated paper to make it easier to recycle.
- All shipping and packaging is recycled and/or recyclable. We source our padded envelopes, eco-friendly shipping labels, GreenWrap (eco-friendly "bubble wrap") and cello and kraft tape from EcoEnclose.
- Laura Elizabeth bag (that your jewelry arrives in) is made of 100% organic cotton.
- Becoming more sustainable and ethical is a journey. Laura Elizabeth welcomes any suggestions or feedback you have in this area. It is our intention to support Mother Earth. And, if you have new and improved ideas, we are excited to hear them. Please contact us.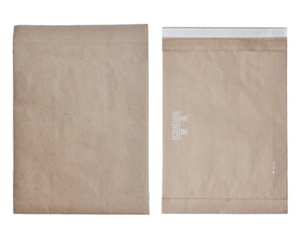 100% RECYCLED PADDED MAILERS
- 100% recycled content, 20% post-consumer waste made with macerated newsprint
- Fully recyclable with mixed paper
- Made in the USA
- EcoEnclose is the supplier of these mailers
100% Organic Cotton Biodegradable Bag
I found these bags on Etsy. I used to use Alibaba. However, it is my intention to support smaller, ethical and sustainable business. The bags are made in Jackson, New Jersey and flown to Austin, Texas. There are a few reasons I make these in the US. The US has laws and regulations supporting ethical practices and staying local leaves a smaller carbon footprint. The bags are flown from New Jersey to me, in Austin, Texas. This is much closer than producing them overseas and shipping them further.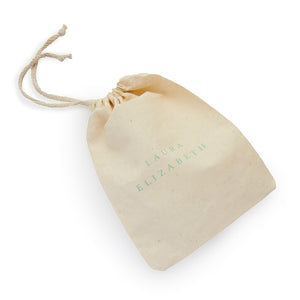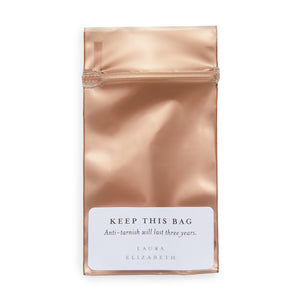 Anti-Tarnish Bags
Your Laura Elizabeth jewelry will arrive inside one of these anti-tarnish bags. The bags prevent jewelry from tarnishing up to three years. And, they are an Austin-based company, called Intercept Technologies. The anti-tarnish bag is a 4 on the recycling ratings. We suggest you hold on to the bag and keep your jewelry in it when you are not enjoying your Laura Elizabeth jewelry.
Furthermore, keep your necklace inside the bag, and just the clasp outside the ziploc. This separates the chain and prevents tangling! Want to learn more tips and tricks follow Laura Elizabeth on Instagram.
Your anti-tarnish bag comes with a gentle reminder to keep the bag and use to prevent tarnishing up to three years. Be sure to push all air out of bag before zip-locking it.
Have questions? Please reach out with any questions. We are all in this together. And together, we are making a positive impact for our earth. Contact here.