Not sure where a necklace hits your neckline?
I based this necklace length guide off of how I perceive necklaces hit my neckline.
Every body is different. Height can play a role. My hope is that this helps you get a better idea of what Laura Elizabeth jewelry will look like on you!
Each Laura Elizabeth necklace states the length it is offered in. Also, ALL LEJ necklaces have 2 inch extenders.
The Hexagon necklace is 15 inches with a 2 in extender.
Side note: If you like a Laura Elizabeth necklaces and the length and you want a different length, please add your desired length in the "notes" section at check out! I hand make my necklaces for you!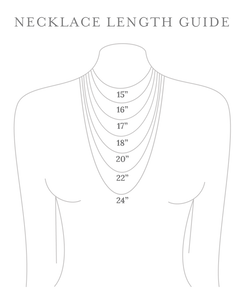 Find our your ring size at home!
Yes! Most Laura Elizabeth rings are easily adjustable. However, if you are interested in finding the best ring size to fit your finger, there are a few ways of finding out your ring size at home!
1) Measure the diameter of a ring you already have.
Lay a ring down flat on a table
Lay measuring tape or ruler across it to see what the diameter is for that particular ring.
For example, I just did this and the diameter of my ring was close to 17mm. This would tell me that I should shop for a ring size between 6.5 and 7 to fit that finger.
2) I like to use a piece of paper or string and wrap it around the base of your finger.
Mark the point where the end meets the pen.
Measure the string or paper with a ruler.
Pick the closest (circumference) measurement on the ring size chart to find your ring size!