Does what we wear tell a story about who we are and what is important to us?

In my perception, who and what we prioritize is clear in our everyday life and in our choices.
Family, health, and sustainability are very important to me.
· Are you someone who considers your health, family and the future of the earth of importance?
· Are you compassionate to your fellow individuals in your community and around the globe?
· Do you find yourself having an inner dialogue on how you can better yourself and be of service?
· Are you conscientious about what you are putting on or in your body or your family's healthy and well-being?
· Are you a part of the positive change in the world, but don't feel the need to shout it from the rooftop?
·And, do you know how valuable you are just for simply existing? And know you are worthy of what you want and ask for?
·Are you making conscious choices to experience a balanced life?
· Is integrity paramount?
· Do you appreciate sophisticated and unique things in life? And, don't just follow the mass trends?
If you've answered yes to any or most of these questions, you are at the right place.
We are in alignment! I love to design timeless jewelry that is also made ethically and sustainably, here in the US, by women for women. I have worked hand-in-hand with a woman-owned manufacturer in Los Angeles for over 15 years. I must admit, I have looked elsewhere. I found several manufactures in India that claimed they also made sustainable jewelry. However, the quality never compared to Silva's, my LA co-designer and manufacturer.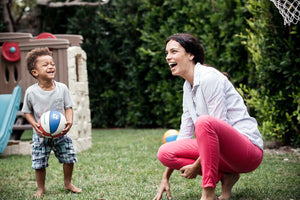 Who is Laura Elizabeth?
Laura Elizabeth jewelry is more than just a brand, it is an extension of me. Before starting Laura Elizabeth jewelry, I worked as a nanny, caring for young children, and would often take the kids out into nature. One of our regular activities was comparing various plants; their appearance, their smell, and their texture. This was eye-opening and inspiring both for the children, and for me. I wanted to capture their child-like wonder with the world and set out to create a line of nature-inspired jewelry that is both sustainable and durable enough to be worn around kids.
One day, while I was on a run enjoying the incredible nature of Southern California, I spotted a Dusty Miller plant. It surprised me how many times I had walked past this plant without seeing its unique beauty. I surrendered to my own childlike wonderment in that moment, and was inspired to design my first cuff. To this day, with each piece of jewelry I make, I draw from my experiences inspired by nature. I love hikes, walks on the beach, and traveling. Moments like these, ones that artists often refer to as divinely inspired moments, were what inspired me to create Laura Elizabeth.
Let the beauty of what you love be what you do.
- Rumi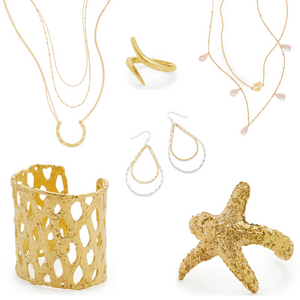 Sustainably Made in the US
We buy our metal from recycling plants in Los Angeles. We do not use any acid or chemicals to wash, clean or polish any Laura Elizabeth jewelry. In fact, we use household products! Many other manufacturers use cyanide and other chemicals that hurt the workers who are making the jewelry you enjoy. We use no hazardous chemicals from A-Z.
What makes us Different
Our process is lost wax metal casting.
Once a mold of a pendant or starfish or leaf is done, we work on the wax from the impression and make it into a wearable ring, cuff or pendant.
This is the "master" to use to make our production.
Now that we are ready for production, we make a "tree" (made plaster -like used in dental offices).
This tree goes into oven 1300 degrees!
The wax is then melted at this heat, but because it's filled with plaster – the plaster stays.
Next, we pour metal into the flask/tree.
Interesting fact: Something else that makes us sustainable is that our oven has a hood on it that absorbs all the fumes that normally causes pollution. Therefore, we do not pollute the air with our lost wax process.
Generally, manufacturers dump the plaster in the water and therefore the sewer. However, the building we use has a special sewer that is collected by the management and dumped properly –so it's not dumped anywhere that affects the eco-system.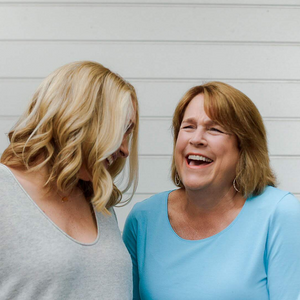 Please Join the Community
When you purchase jewelry from this site, Laura Elizabeth donates to a non-profit of YOUR choice. After you choose your jewelry and enter the cart section (before the checkout page), look for a drop down under the subtotal. Please choose a non-profit that connects best with you. AGAIN, you are not paying extra. This comes out of my pocket. You do NOT need to sign up for anything.
If you want to know more about the Laura Elizabeth process, please visit my blog post interviewing Silva, my caster.
In the meantime, please do me the honor of becoming a part of our Laura Elizabeth community. Join the newsletter and receive updates on all things jewelry, sustainability and a joy-filled lifestyle.
Follow and engage with me on Instagram and Facebook.
And please, if you have any questions or suggestions, I am all ears. Contact me, here.